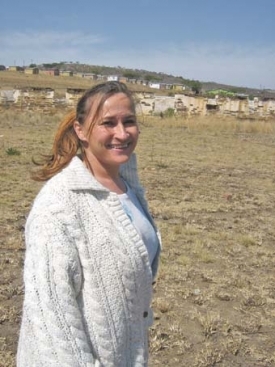 THE canary yellow Atos cuts a jaunty path through the greys and browns that dominate the settlement commonly known as France, on the outskirts of Pietermaritzburg. Every now and again a hand shoots out of the driver's window and waves vigorously while the other steers the car around treacherous drifts which have already left their mark under one of the Atos's doors.
The car pulls up outside a two-roomed low-cost house and out jumps Melanie du Plessis, founding director of Reach Out, the NPO which takes food and other necessities to children and the elderly, mainly women, in the peri-urban township on the road to Richmond.

Inside the house, Du Plessis bends down to greet what looks at first glance like a teenage boy lying on a mattress watching Takalani Sesame on a television set in the corner. He turns out to be a 23-year-old man with cerebral palsy. Du Plessis holds his hand, strokes his cheek and chats to his elderly carer and her family, assuring them that she'll bring provisions soon. "This man is one of the reasons we need facilities in this area," she says.

For about eight years and with limited resources, Du Plessis has worked largely single-handedly in the high-density settlement, raising whatever she could through her organisation and distributing food parcels, blankets, carpet off-cuts, toys and basic necessities to a community characterised by high levels of unemployment and poverty.

And as in other parts of South Africa, incidence of HIV is high. The nearest formal clinic is four kilometres away at the Grange, and many of the 5 000 matchbox houses do not have electricity or running water. Living close to the township, Du Plessis is a frequent visitor to the area. She describes herself as "born to serve". "Recognition is so often given to charity workers instead of the people. The people deserve it, not me," she says.

Now, the committed charity worker is ready to up the ante and help bring sustainable facilities to the under-resourced area. In partnership with Liberty Midlands Mall, which chose Reach Out as its charity of the year, the organisation has plans to construct a one-stop community centre in the heart of France on a large stretch of vacant land owned by the Msunduzi Municipality.
What will begin as a drop-in centre and soup kitchen, Du Plessis hopes will also in time be complemented by a much-needed clinic, home for the elderly and pensioners' payout point.

In order to raise funds for the first phase, Liberty Midlands Mall recently launched its Donate-a-Brick campaign. Marketing manager for the mall Cassy Wintgens said the aims of Reach Out and its founder tallied with those of the centre. "After receiving Melanie's proposal, we went into the community and saw the need for ourselves. She's a passionate advocate of her cause."
Passionate is a good word for Du Plessis. Another is energetic. It seems to me that she's constantly on the move. After a round of hugs, we're off to visit a crèche where we interrupt the children's porridge breakfast. A throng of small children throw their arms around my legs. Then they scuttle off to show us the jungle gym recently secured through Reach Out.

"You can see the way my children have blossomed," says Du Plessis. "They used to have glassy eyes and no smiles. If you give them the basics, plus love, the other things follow," she says. Then, we're off to meet a "gogo" who is raising 10 grandchildren. "How are your provisions?" asks Du Plessis of the matriarch. "I'll be back tomorrow."

The land earmarked for the drop-in centre is an open stretch of ground dotted with a few rare trees and outbuildings, near the old farmhouse, which stands as testimony to the area's past as a farm called Ambleton. "One year ago, I stopped here and realised this was it," says Du Plessis. "The spot we could use for the community centre." The project has the blessing of local ward councillor Alpha Shelembe and talks are ongoing between Reach Out and ward committee members.

An application to acquire the land from the municipality, hopefully by donation, is scheduled to go before the land disposal task team. According to Msunduzi municipal valuer and manager for real estate and valuation, Blackie Zwart, the task team's biggest decision will be settling on the most appropriate method of disposing of the land. He said the land disposal policy has a clause which caters for non-profit, community and other public benefit organisations seeking to establish communal facilities and wishing to enter into a private treaty deal with the municipality.

For Du Plessis, there is little room for doubt. "My people are ready, so ready for this," she says, exuding faith in the potential of the project. "Here's the hope for France," she says gesturing to the open land around her. "Here we can give the area's children a sense of a future.

"And whatever happens, it must belong to the people of France," she says emphatically. "This is not my vision; it's greater than that," she says referring to the number of positive developments which have dovetailed to support the project, such as the unexpected donation of architectural plans for a clinic suited to a rural area. Other donors have also stepped forward to make her job a little easier, although sustained funding is desperately needed.

"God has laid this project at my feet," she tells me. "My daily walk is one of miracles and inspiration."

• To help Reach Out, contact Melanie du Plessis at 082 445 1769 or make deposits into Absa, branch 632005, account number 919 187 5622. To contribute to the Donate-a-Brick campaign, contact Cassy Wintgens at 033 341 9570.